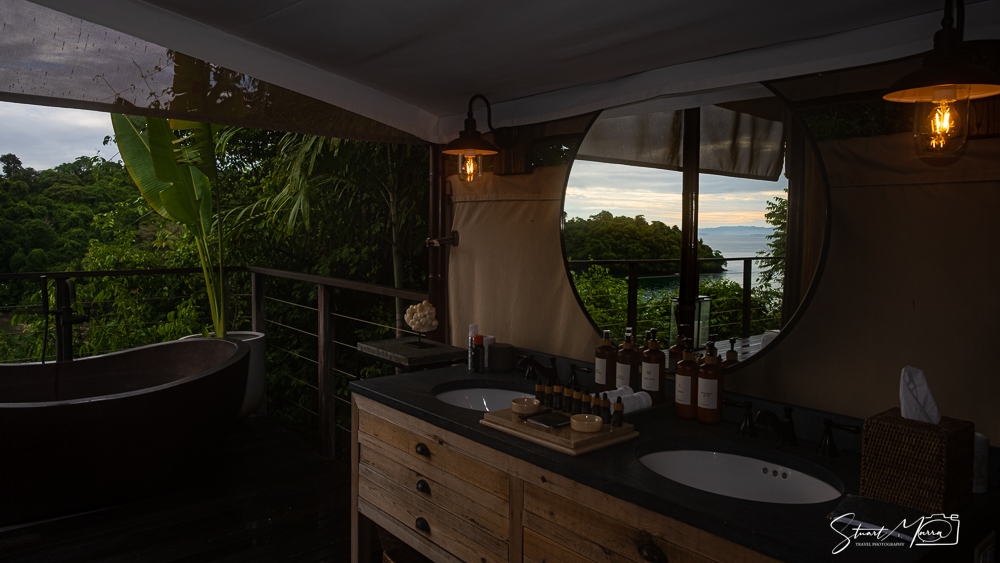 Nestled in Panama's Pacific waters, the archipelago of Isla Secas offers a serene escape. My journey to these secluded islands was an invitation to experience nature's beauty and unparalleled luxury.
From Tent to Palace
The 'tent' on Isla Secas is a canvas masterpiece equipped with modern amenities: a plush king-sized bed, an open-air shower, an immaculate view of the sunrise when waking with a sunset that you cannot take your eyes off of, and unparalleled service, all set amidst the calming embrace of nature.
Nature's Mosaic
I delved into the vibrant marine life through snorkeling and diving, surfing in the Pacific, each dive revealing a spectrum of corals, the waves perfect for surfing, and seeing playful dolphins and inquisitive turtles. On land, guided walks introduced me to the islands' diverse wildlife, from chirping birds to elusive iguanas.
This location is renowned as one of the premier fishing destinations in the Pacific Ocean, offering anglers a paradise of abundant marine life. After an exhilarating day offshore, we enjoyed every recreational option, from paddleboarding to Seabobs, the comprehensive marine experience.
Eco-luxe
A standout feature of Isla Secas is its commitment to sustainability. The resort, powered by solar energy, maintains a harmonious balance with its surroundings, ensuring luxury without compromise.
A Culinary Adventure
The dining experience was nothing short of exquisite. Fresh Pacific seafood, infused with Panamanian zest, ensured every meal was a gourmet delight accentuated by the vast oceanic backdrop.
Final Reflections
Isla Secas isn't just a destination; it's where luxury intersects with nature's rhythm. For those yearning for a sustainable yet luxurious retreat, this Panamanian gem is a must-visit.