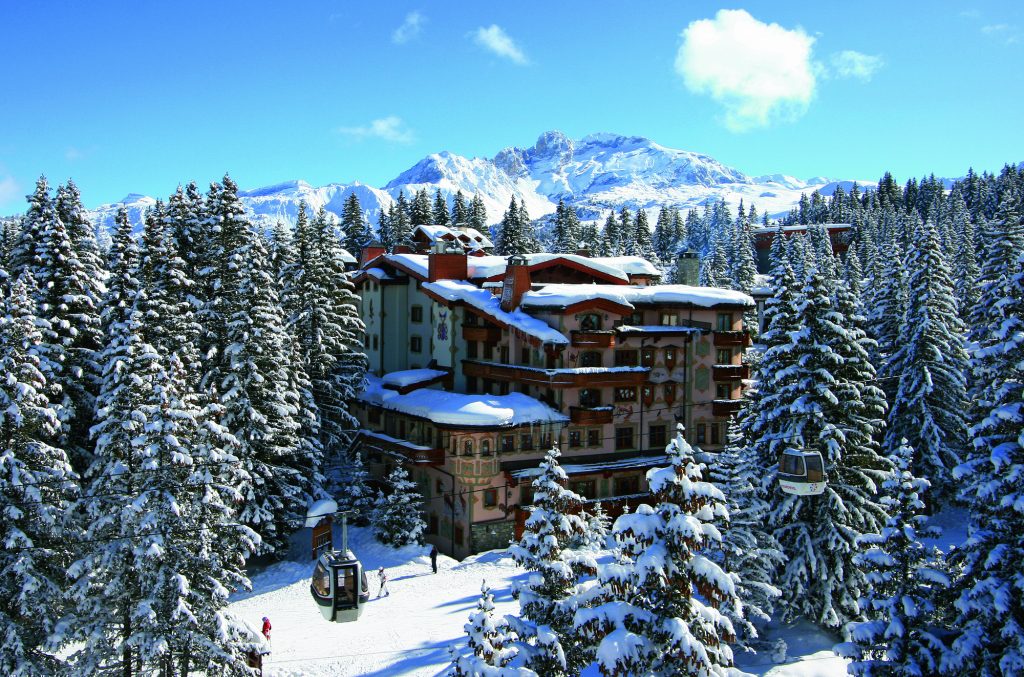 Every year, there is an exodus of Americans from their suburban homes to the frosty ridges of the Rocky Mountains. Now, imagine you could enjoy even better skiing than the American West paired with a true European experience and standard of service.
In the past few years, we've heard clients be less-than-thrilled with the standard of service at US destinations.
With popular spots packed with people every year and staffing problems affecting hospitality, it's hard to get the individual attention you desire when skiing The Rockies.
Europe is a superior choice for winter skiing vacations—with more dramatic landscapes, beautiful historical locations, and a world-class service standard.
At Airelles' incredible locations, you can roll out of bed in one of Europe's finest hotels, then spend the day gliding down some of the world's most picturesque Alpine terrain.
We'll dive into two of the most choice accommodations we recommend for a winter getaway and what makes them drastically different from a regular ski vacation.
Airelles 5-Star Luxury Hotels and Palaces
The otherworldly mountain getaways of Les Airelles Courchevel and Val d'Isère are not just interesting alternatives to Jackson Hole or Aspen, but rather a class onto themselves. Sophisticated travelers who long for a place where the world's best ski conditions meet world-class service need look no further than these incredible maisons. Every house has meticulously preserved architecture, antique furniture, and period paintings that allow you to travel back in time to a winter wonderland. Lively, festive resort towns with mouthwatering restaurants and surprisingly good nightlife are paired with immersive history and the best ski conditions in the world. Sound too good to be true? Welcome to Les Airelles.
Airelles Val d'Isère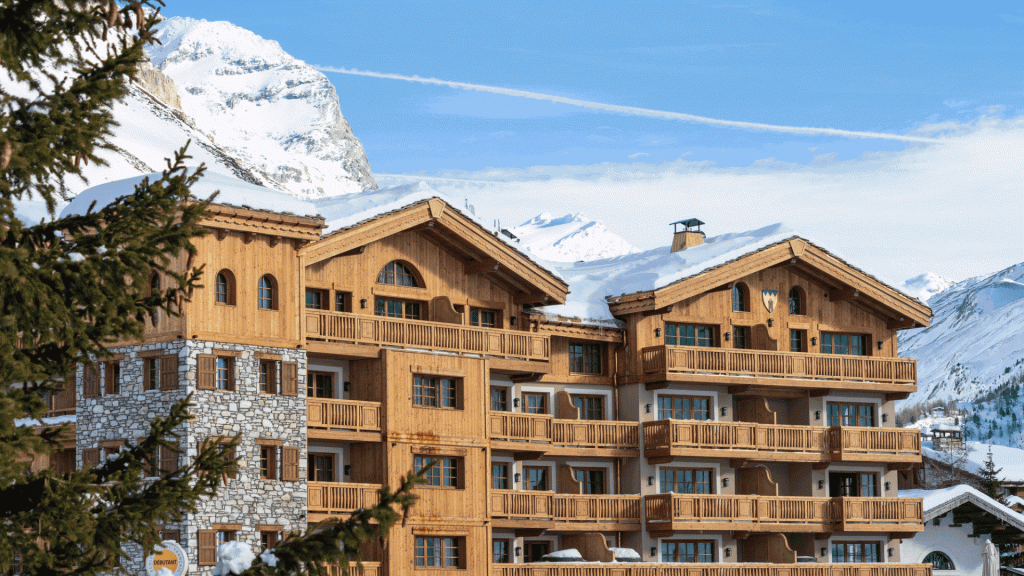 Step into a storybook village, where snow-capped roofs of stone chalets and baroque churches are hugged by a dramatic white ascent rising to the peaks of the French Alps. 
The Airelles Val d'Isère occupies a place of pride in the resort town of Val d'Isère, overlooking the slopes of Front de Neiges and only a two-minute stroll from the heart of the old town. The chateau-style accommodation is the perfect blend of old and new—combining a collection of 15,000 antiques dating back to the 15th century with modern marks of luxury like Ralph Lauren wallpaper and Don Braque brassware. The rooms and suites are fit for a king (and sometimes occupied by them), with incredible mountain views, super-king beds, and large televisions hidden behind ornate gilded mirrors. The traditional style creates a warm, cozy, and luxurious atmosphere that offers the perfect fireside sanctuary from the biting cold outside.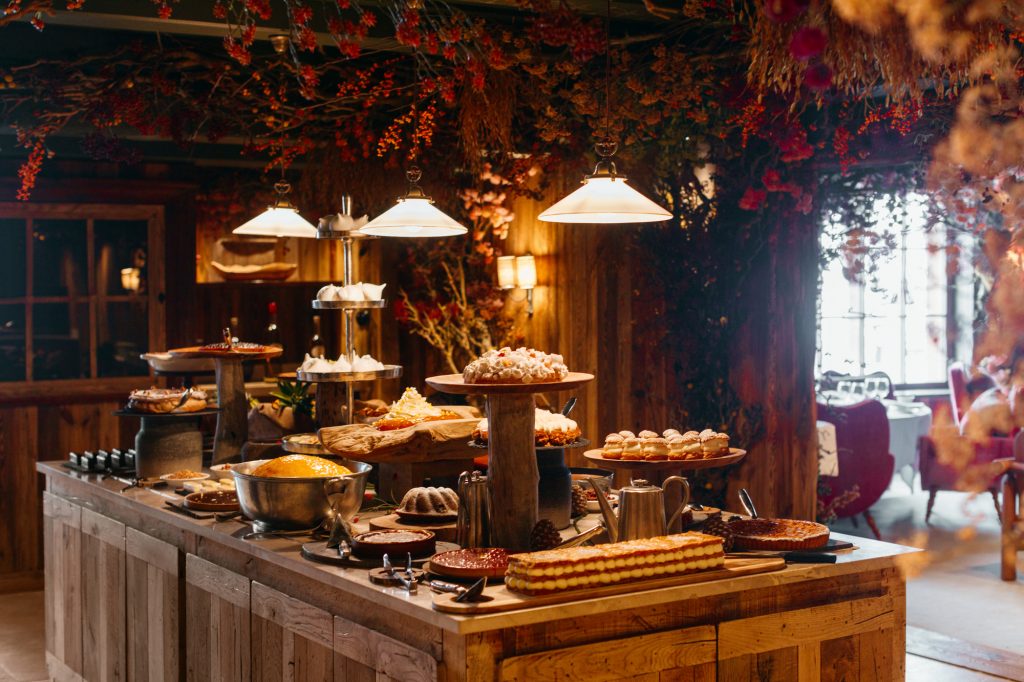 Foodies will not be disappointed with the cuisine at Airelles Val d'Isère. La Grande Ourse restaurant is a veritable institution that serves local Savoyard cuisine in a winter cocoon. The restaurant prides itself on locally-sourced ingredients such as Crozets, raclette, fish, meats like local Black Angus, and charcuterie. After you've finished your meal, retire to the smoking room for cigars and cocktails to end your day in style.
After you've woken up from your fabulous dinner of the night before, it's time to hit the snow with the incredible experiences the hotel offers. The adventurous traveler can try diving under the ice in Tignes Lake followed by a thrilling ice climb up a frozen waterfall. Opulent explorers looking for something different can paraglide from the top of the Solaise on skis, explore the area on a snowmobile, or take a helicopter trip over the Haute-Tarentaise. The kids will also have plenty to do like snowshoeing, husky sledding, and night tubing.
This fairytale experience features the beauty of nature, the luxury of the resort, and the perfect blend of old and new; making it one of the best places to hide away from the world and enjoy a cozy winter.
Les Airelles Courchevel
The town of Courchevel 1850 is the highest, largest, and most exclusive of four linked ski resorts in the French Alps, named for their altitude in meters. Surrounded by an Alpine Garden, a mythical 19th-century-style Austro-Hungarian castle stands against the forested green and white backdrop. This old-world winter palace features plush carpets, gingerbread-hued wood accents, and hand-painted frescoes that evoke quaint Bavarian towns and winter markets. The thirty-two rooms and 15 suites are equipped with every convenience the stylish traveler looks for; giant cocoon-like beds with traditional cozy quilts, incredible views, stunning en-suite bathrooms, and ski butlers at your beck and call.
After settling in, warm your body and soul with incredible dining options at one of Les Airelles Courchevel's six varied restaurants. Tuck into an incredibly decadent lunch spread at La Table des Airelles, enjoy local favorites like hot melted raclette and bubbling pots of fondue at the traditional Savoyard nook Le Coin Savoyard, and then change it up with an Italian restaurant offering a generous and genuine Italian cuisine. The hotel's unique collaboration with La Grande Épicerie de Paris provides its complimentary minibars with delicacies like dark chocolate, mini nonettes with orange, shortbread with Espelette pepper, and truffle chips from the world's most famous French grocery shop.
Kids will have the time of their lives at Airelles Winter Camp, a kids' club with numerous activities and games on offer. They can hang out in the fort or heated treehouse, join an air hockey tournament, cozy up in the cinema room, and enjoy unlimited access to the hotel's video games and simulators. That's when they're not learning to ski on the rabbit hill, going for a dogsledding ride, or joining Mom and Dad for a family night sled.
Speaking of Mom and Dad, they'll be reluctantly rolling out of their cozy bed to hit the fresh powder as the sun rises and before the slopes are open to the public, ferried on a Gucci-designed ski lift. Or perhaps they'll want to request the Hermès-designed horse-drawn carriage or the chauffeured Rolls-Royce to take them into town for a day of shopping. On a more adventurous day, they might choose to go cross-country Nordic skiing, try out heliskiing, or have a family picnic on the slopes.
The unique old-world luxury of Les Airelles Courchevel is a place frozen in time, where all of your most magical winter dreams can be fulfilled.
Inside Our Talks With the General Managers
Opulent Explorers are rightfully picky and expect nothing but the highest standards. That's why we personally get to know all of the accommodations and experiences we choose for our clients. In our interesting chat with the General Managers of both properties, they drove home the mindset that makes their service standards drastically different.
SM: "Why not extend the season into May, like many less-exclusive accommodations?"
Etienne Petitpez: "We give our staff time off to rest before heading to the warmer Airelles resorts for the summer season."
Hospitality is a career in Europe, where staff are given pay, benefits, and professional development that allows them to fully dedicate themselves to their quality of service. Think of an hostess in Los Angeles who is "trying to get into acting" versus a seasoned NY doorman known to everyone as "the doorman." It's a subtle difference until it's not, reflecting the difference between the American and the European approach to hospitality.
"…and, because Les Airelles Courchevel has over a four-to-one staff-to-room ratio, they are well-prepared to deliver anything you need during your stay." – Jean-Pierre Lerallu
Choose an Opulent Experience
If you're a traveler who sees things a little differently and wants the very best, then you're an Opulent Explorer. Opulent Explorers are never satisfied settling for the same locations and resorts as all of their friends back home. These winter getaways are the perfect example of the kind of elevated experience we provide. With our knowledge and background as extensive world travelers and our hard-earned industry relationships, we're positioned to create the holiday of your dreams. Check out our itineraries, or contact us with your travel vision.